Bootstrap Themes - Free and Premium Themes for Bootstrap
One of the most popular CSS Frameworks. We collect Free and Premium Themes, Pros and Cons for using Bootstrap, Tips & Tricks
What about Bootstrap Themes?
Good thing is, the open source framework Bootstrap is one of the most popular website CSS framework out there and there are plenty of beautifully crafted themes available which were built with Bootstrap. The framework was created and built around 2010 from a web developer at Twitter and since then it has developed into a well-known system for building responsive and mobile-ready websites.
one of the most popular website CSS frameworks out there
From our point of view this is a very solid framework which is extensively used in the industry around the world. Every web designer and developer knows bootstrap. It is not shiny anymore, but it has developed into a mature CSS framework.
Free or Premium? How much to spend on Bootstrap Themes
Of course it depends on the scope of the website project, circumstances around that and personal preferences if someone is willing to pay for a Bootstrap theme or not. In the world of Bootstrap themes there are plenty of resources available to get free themes, templates and other tools.
Like in general regarding website themes, comparing free themes to themes you have to pay for will most often bring many differences to light, e.g. number of styled components, level of detail and other additional styling options.
When getting to a decision if free or paid theme it always boils down to what project you are working on and how much budget is assigned. If it is a serious project you should always aim to get a good paid theme, especially as you can get many popular Bootstrap themes for around 30 to 60 dollars. If it is a project which is not that serious it is always a good option to begin with a free theme. Also if you have knowledge in HTML and CSS to develop your site it might be perfectly fine for you to just use a free theme as you can futher customize it by yourself.
you can get many popular Bootstrap themes for around 30 to 60 dollar
Who uses Bootstrap Themes - Should You?
Short answer: Yes.
Bootstrap is used all around the world in the web industry as it is totally accepted as one of the best CSS frameworks out there. Everyone who is working with web technologies knows Bootstrap. This is especially true for web designers and web developers.
So if you are considering using Bootstrap for your web project this is actually a good reason to use it - you will always find someone who can easily help you because he or she already knows Bootstrap.
If you are a person who wants to learn Bootstrap - go for it. No matter what you already know about web development in general and what you know about HTML and CSS, learning Bootstrap will help you design, customize and optimize website themes and your own web project by yourself.
Pros and Cons for using Bootstrap Themes
Some pros and cons for using Bootstrap themes listed down below.
Pros
Responsive and mobile friendly
Every web designer & developer knows Bootstrap
Battle-tested framework
High adoption in the industry
Good layout options and grid system
Easy to learn and use
Saves a lot of time
Cons
Not that lightweight (in comparison to newer frameworks)
Uses JQuery (but will be removed in version 5)
Can lead to doing many style overrides and fiddling around with different css files
Bootstrap Themes Websites
Official Bootstrap Themes Shop
Official Bootstrap Themes Shop
Bootstrap has an offical themes Shop, where theme designers and creators have the possibility to sell their own themes. All themes listed in this shop are built by the creators of Bootstrap themselves or if they are built by other theme designers, the Bootstrap team reviews them before listing them in the shop. This way you can be sure that only high quality bootstrap themes are offered here.
There are no free themes available in the shop. Prices for the themes are ranging from 39 to 79 Dollar per theme. These prices are valid for the standard license option, which allows you to use this theme on only one end website and only for your personal use or client use. Read more about their licensing options here. Overall there are three licensing options available (standard, multisite and extended).
If you purchase a theme in the shop you get 6 months of technical support.
From our point of view the quality of themes and templates in the offical bootstrap shop is on the very high end, as the CSS framework is correctly used and the designs are very detailed regarding things like colors, animations, icons and hover (mouseover) effects.
Of course all of these themes are highly responsive and optimized for different resolutions on all possible user devices and screens - as this is one big reason the framework itself was created for.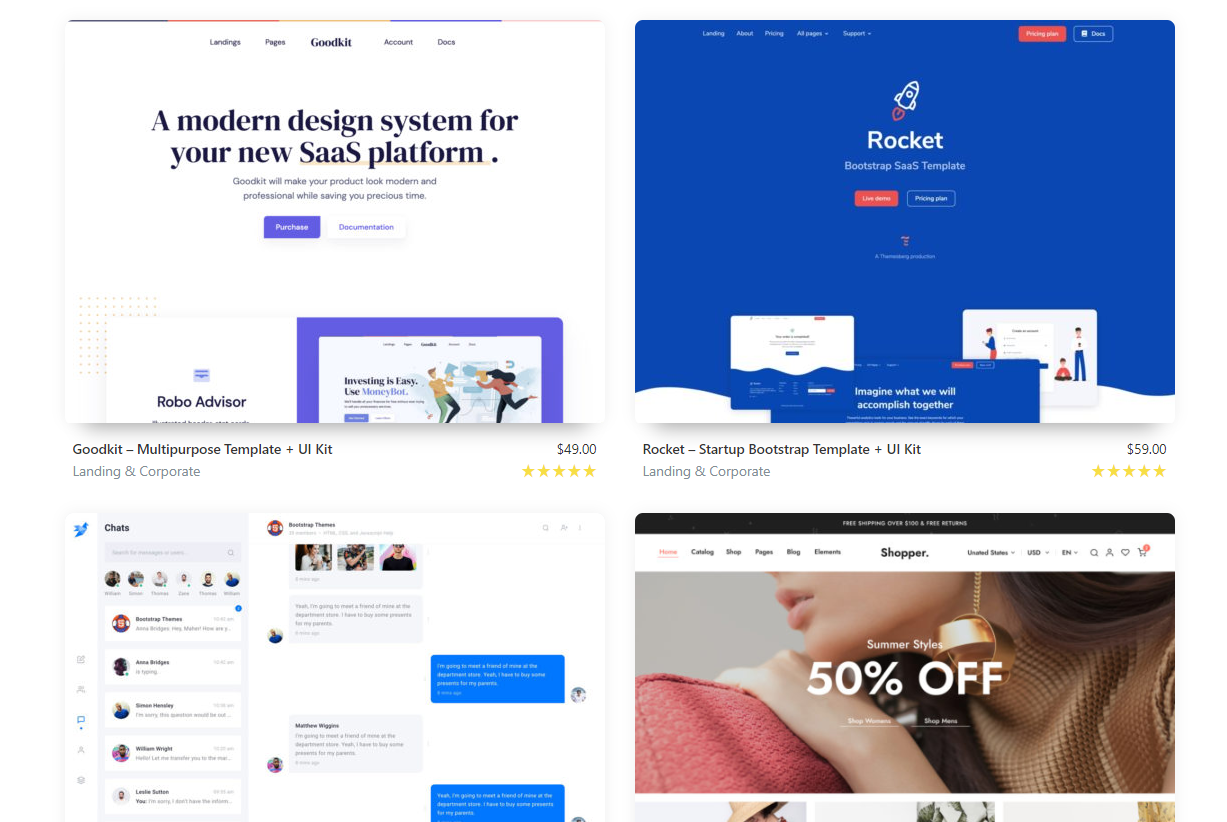 Start Bootstrap
Start Bootstrap is a website which has its focus on creating free themes, templates, snippets and guides for Bootstrap.
If you are currently developing a website with Bootstrap you should check this site out as there are some really useful things like their Snippets section. There are Snippets like an animation for the dropdown menus in the bootstrap navbar or the implemenation of a HTML5 background video header without the use of JavaScript.
In general the selection of themes for Bootstrap is not that big, but the themes are of very good quality and usually quite feature-rich. A theme from them can be used as a good foundation of further working and developing your website.
Besides their free themes, Start Bootstrap also offers some premium themes which are popular. Prices for their pro themes are in the range of around 39 to 99 Dollar (sometimes they do sale campaigns!).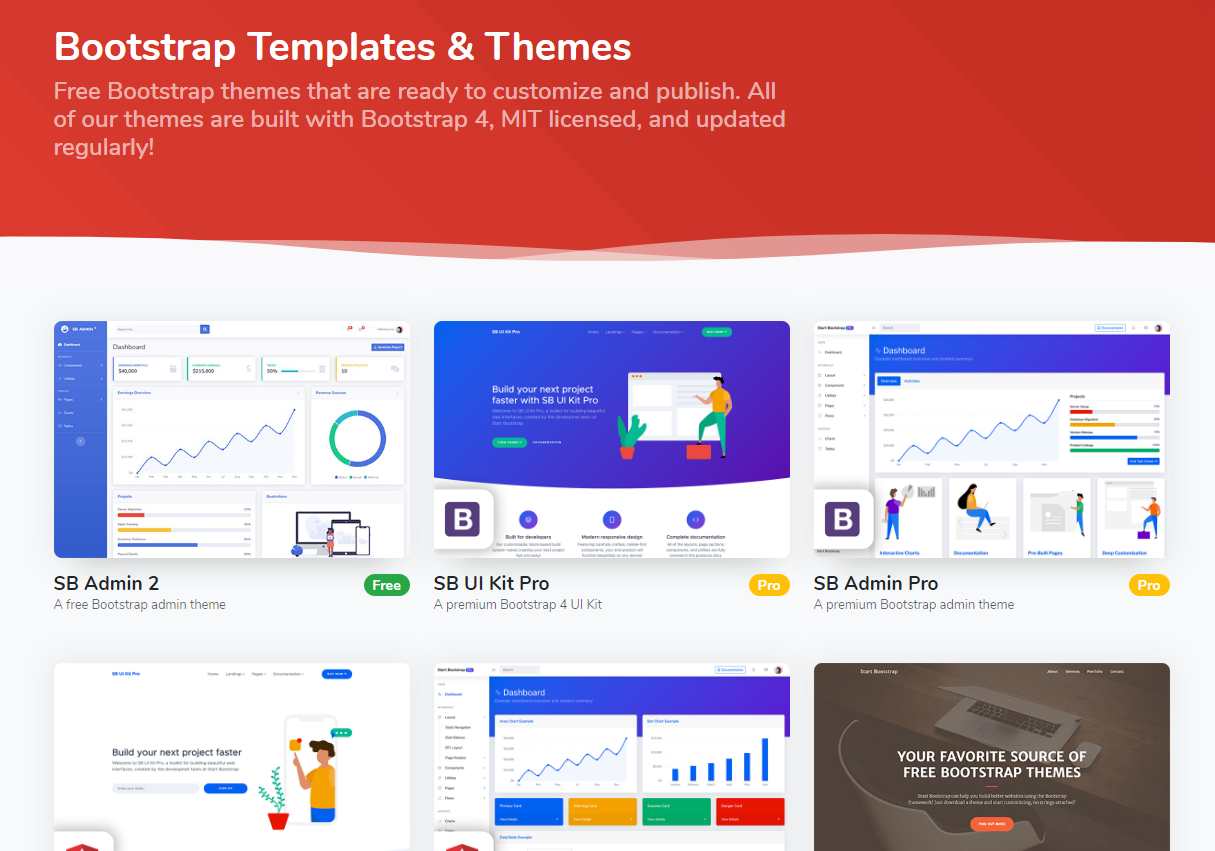 Bootstrapmade
Bootstrapmade.com offers great free high quality themes for Bootstrap. You can find popular ones like Squadfree, Knight, Bizpage or Nice Admin on their site, which were already downloaded multiple hundred thousand times.
If you choose to use one of their free website theme, be aware that you have to backlink to their site. Detailed information about this you can find here. But you also get the option to remove this backlink by optaining a license for around 19 to 39 Dollar (different plans available).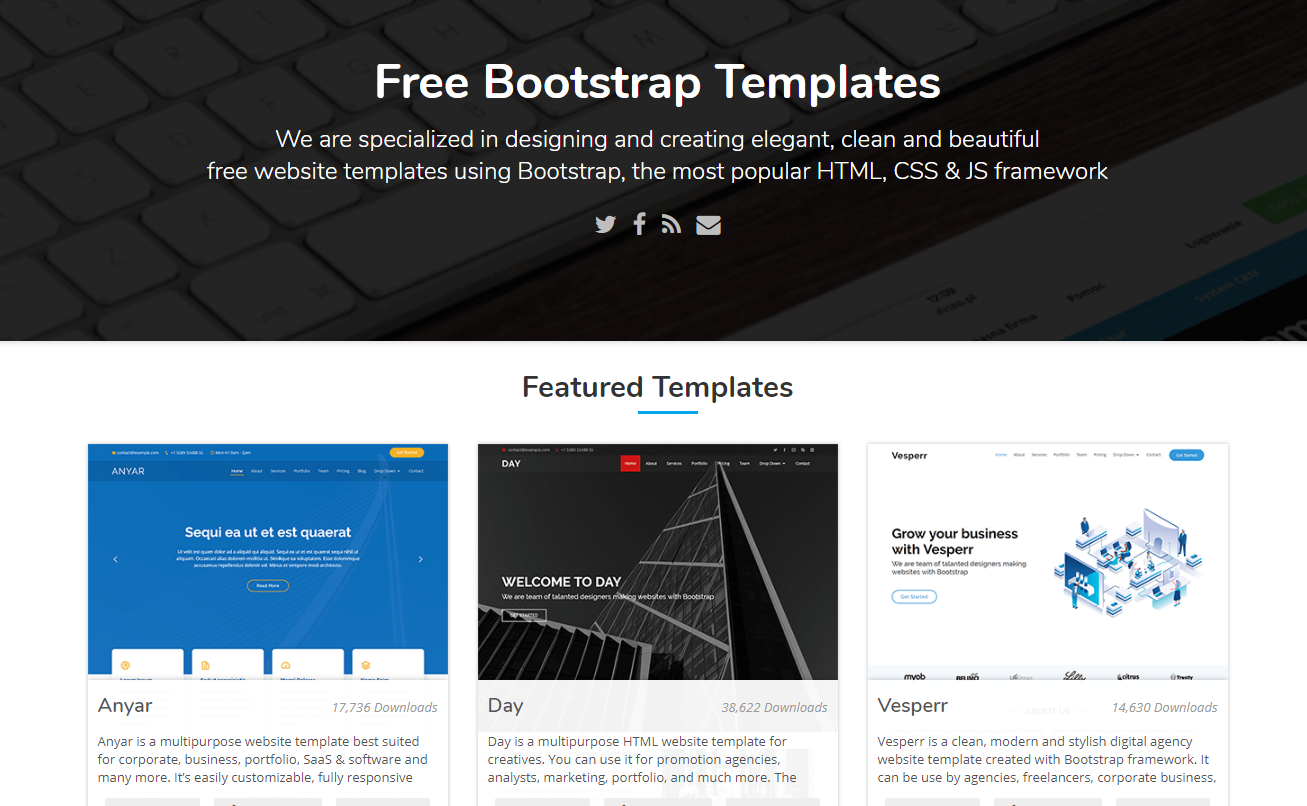 Bootswatch
Bootswatch has some very cool themes for Bootstrap. These are not fully designed website themes how you can find them on other websites, but they give you different stylings for the whole package of CSS elements of the Bootstrap framework (think of buttons, navbars, checkboxes, typography, etc.).
If you are developing a basic website with Bootstrap and want to get rid of the standard bootstrap styling, this is an easy way to apply a good looking theme design to your site by just changing your CSS files. The owner even provides SASS files which allow you to customize them they way you want.
The themes are absolutely free to use and they are built on the latest version of Bootstrap.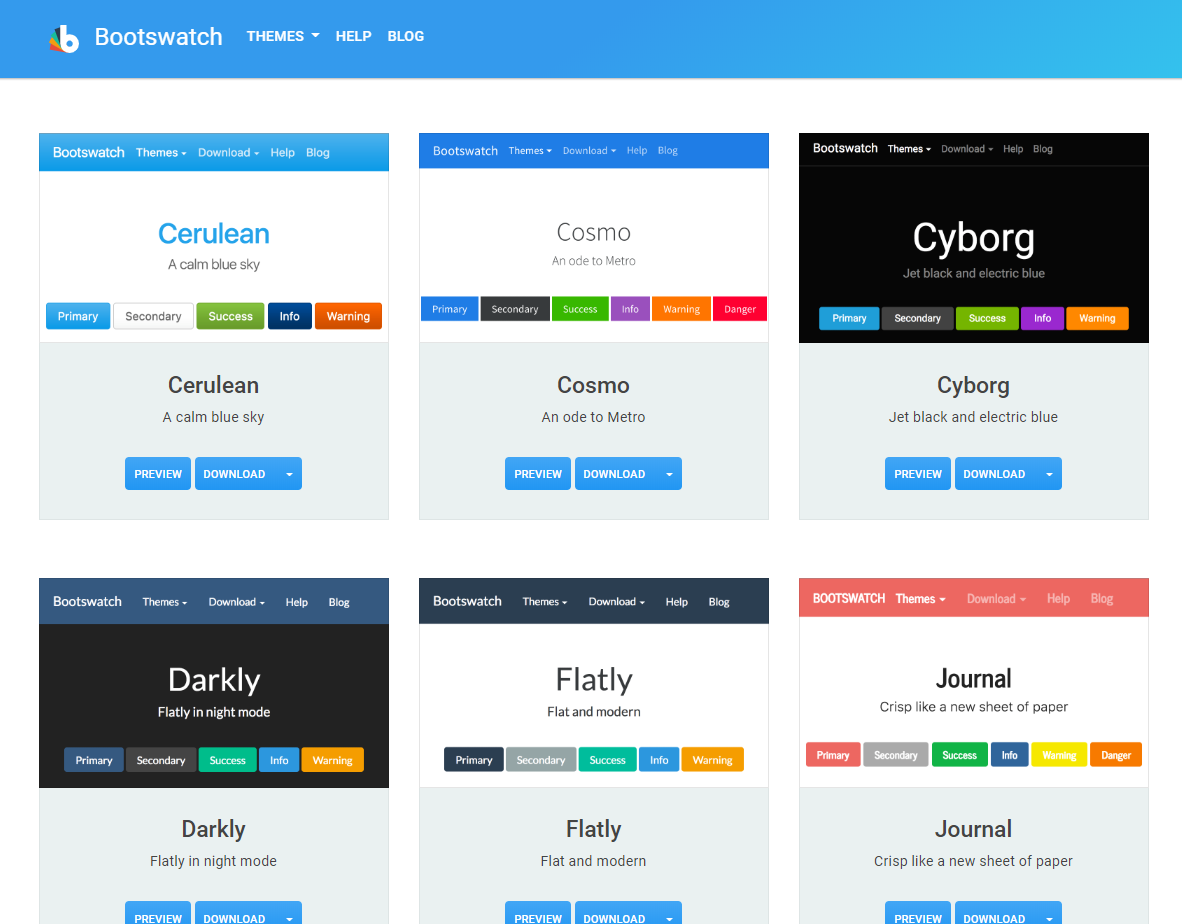 WrapBootstrap
WrapBootstrap is a platform which is already around since 2012. Theme designers and developers can sell their own creations based on Bootstrap on this site. There are a lot of themes available ranging in prices from 8 to 104 Dollars. Often the authors are doing sale campaigns where they lower their prices for a certain amount of time.
Especially Themes for admin dashboards or web apps seem to be very popular on this site as these themes have the highest sell rate.
Like on many other sites too you can filter all available themes by categories like business, creative, retail, restaurants, travel, food and many more.
Most themes keep being updated by the authors. If you want to get an impression about the theme creators you can take a look into the comments section of each theme. People are able to ask questions there and usually the theme authors are responding to them, which is a good sign.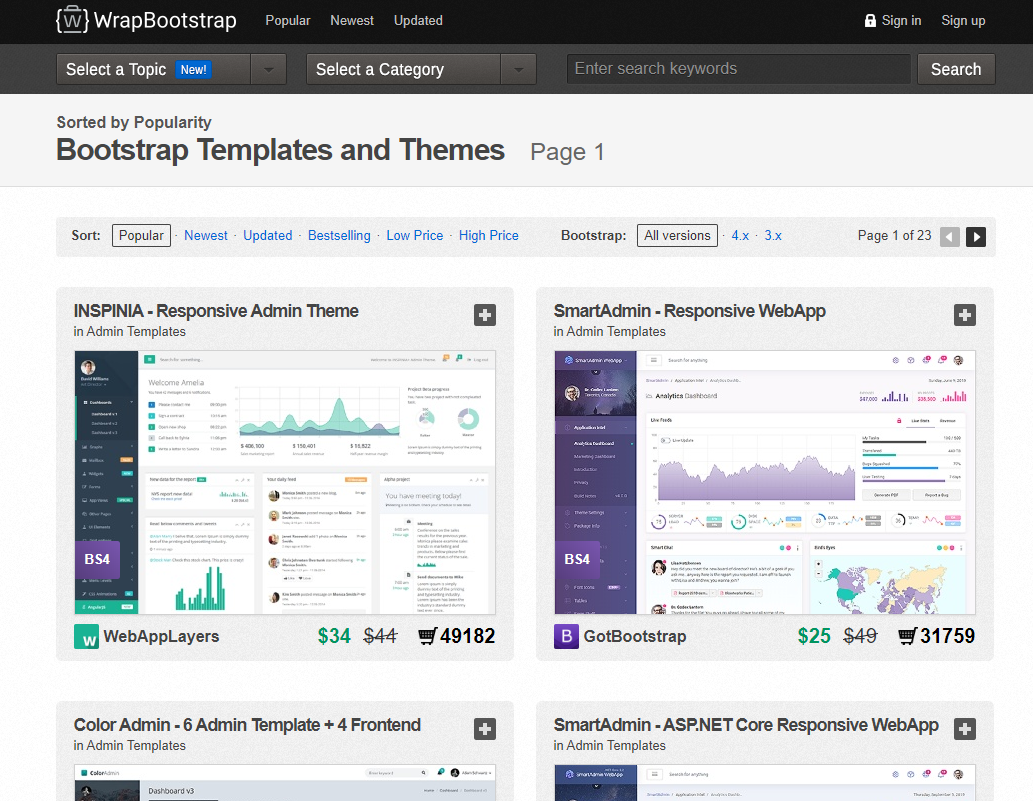 Templatemonster
There are many themes and templates available for Bootstrap on Templatemonster. Prices for their themes are in a range of 15 to 98 Dollar. The sheer amount of themes can make you loose focus while browsing their site. Therefore it is recommended to use their sort and filter options to get yourself an overview about the best themes. You can sort by trending, bestsellers, price and so on. Also you should take a look on the number of sales and the user ratings.
Some of the Bootstrap themes on Templatemonster are of very high quality, e.g. themes like Intense or Monstroid2.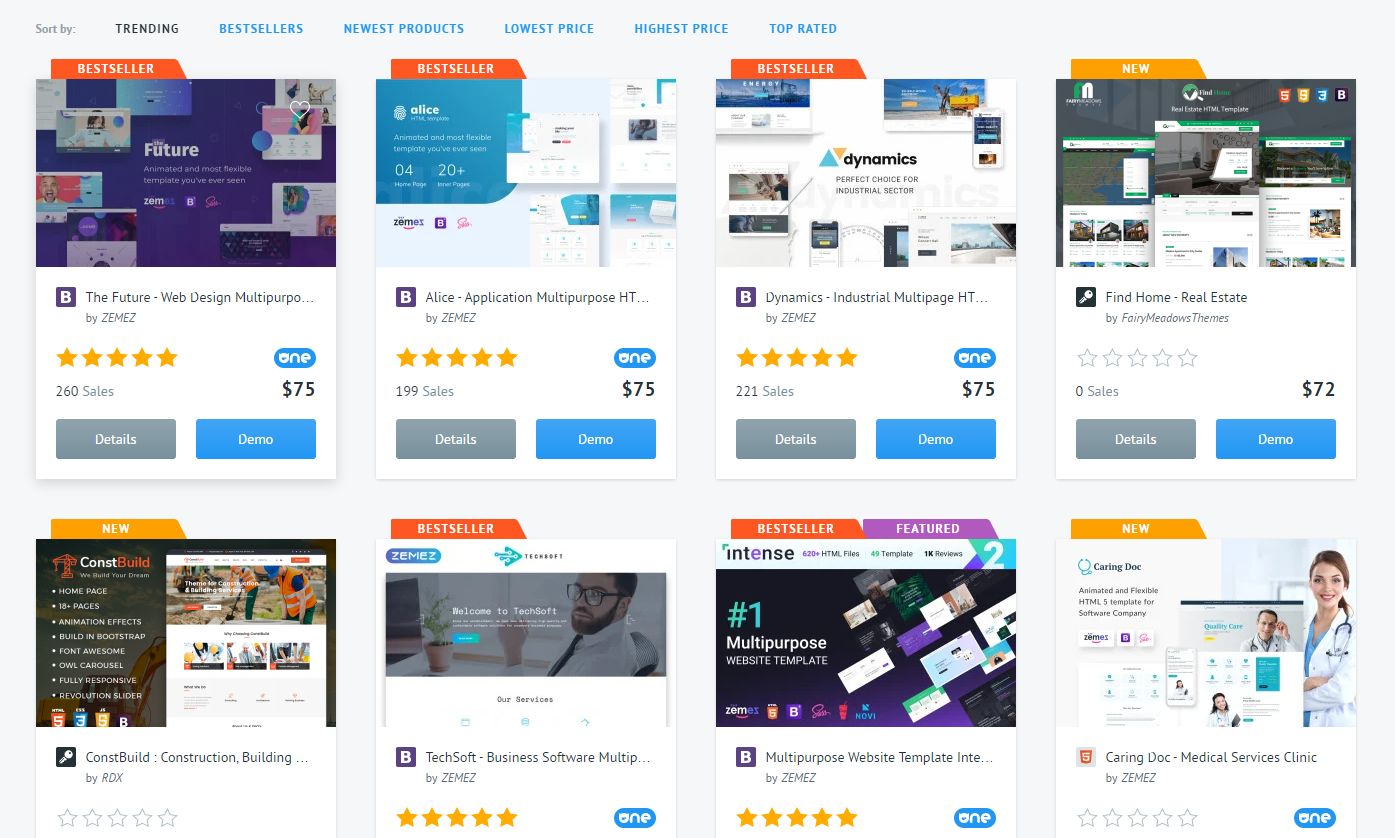 Themefisher
Themefisher is a great website where you can find themes for Bootstrap not everyone knows about. The Themes are very beautiful, detailed, animation-rich but also simply structured and focused on content.
There are a lot of free and also premium themes available, while the premium ones are sold for around 30 dollar per license. If you want to use a free bootstrap theme without purchasing the premium version of the theme you have to give attribution (simply by not removing the link in the footer of the theme).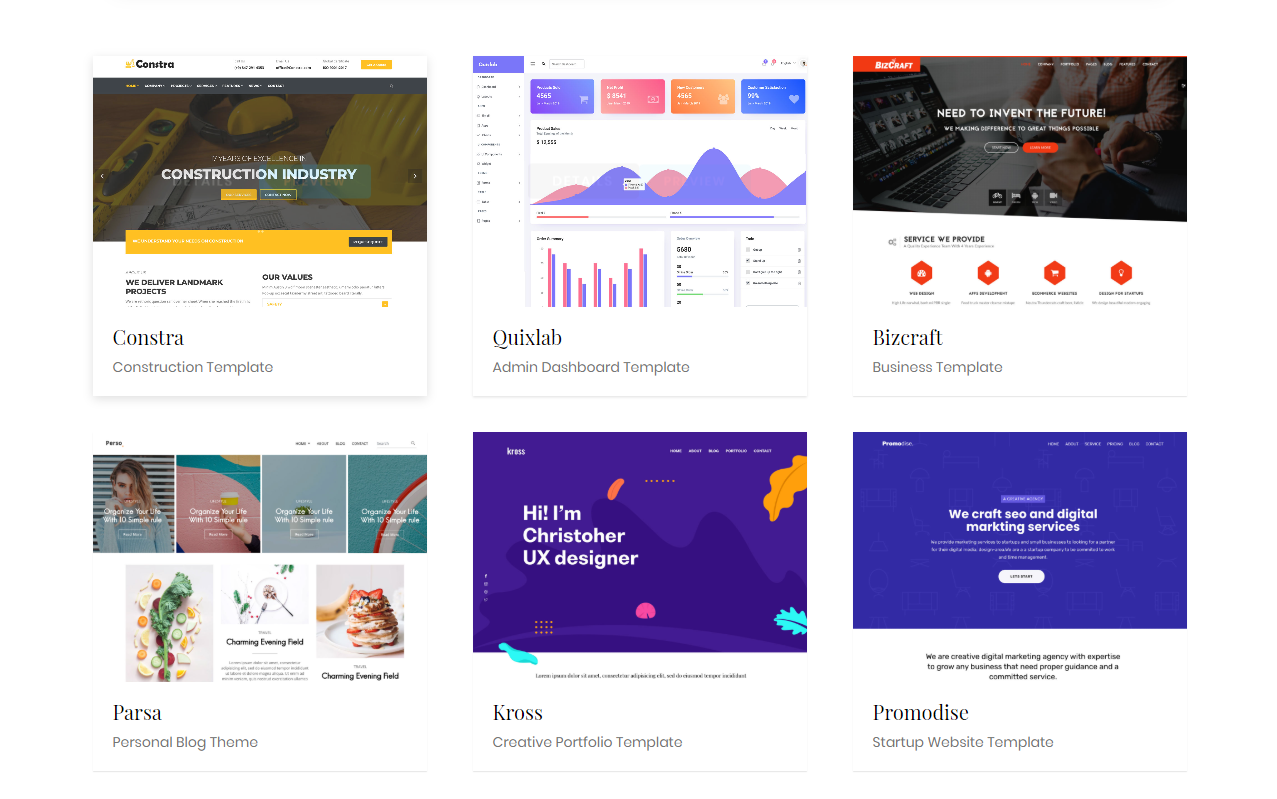 Creative Tim
On creative-tim.com you will find popular beautiful themes based on Bootstrap which are available as free and pro versions. Often they are additionally using design frameworks like Googles Material Design. On top of that many of them are also not only using HTML and Bootstrap, but also Javascript Frameworks like Angular, React or Vue. If your goal is to develop and build a website or single page application using one of these modern Javascript Frameworks you should definitely visit this site.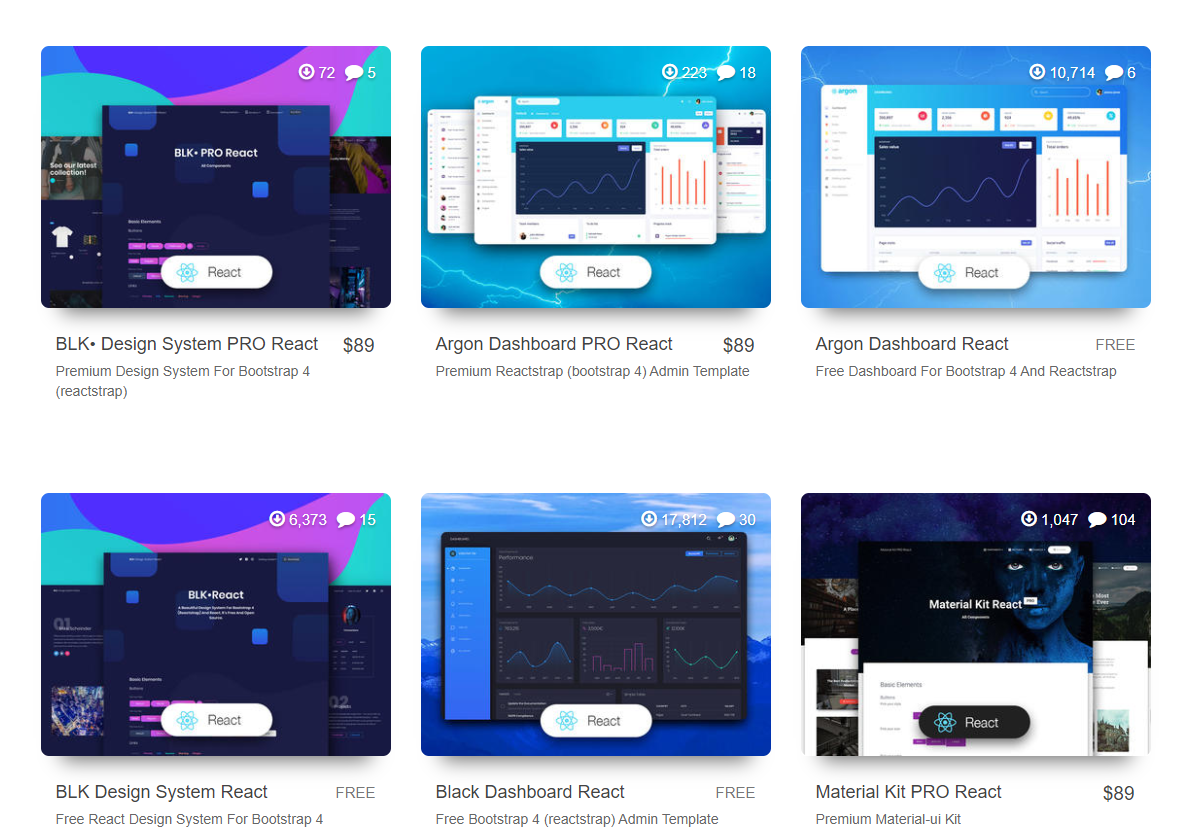 Bootstrapthemes.co
Another great resource for getting free website themes built with Bootstrap is bootstrapthemes.co. On this site you can find more than 400 themes for Bootstrap. Their themes are pretty good, but compared to other websites not of the highest quality.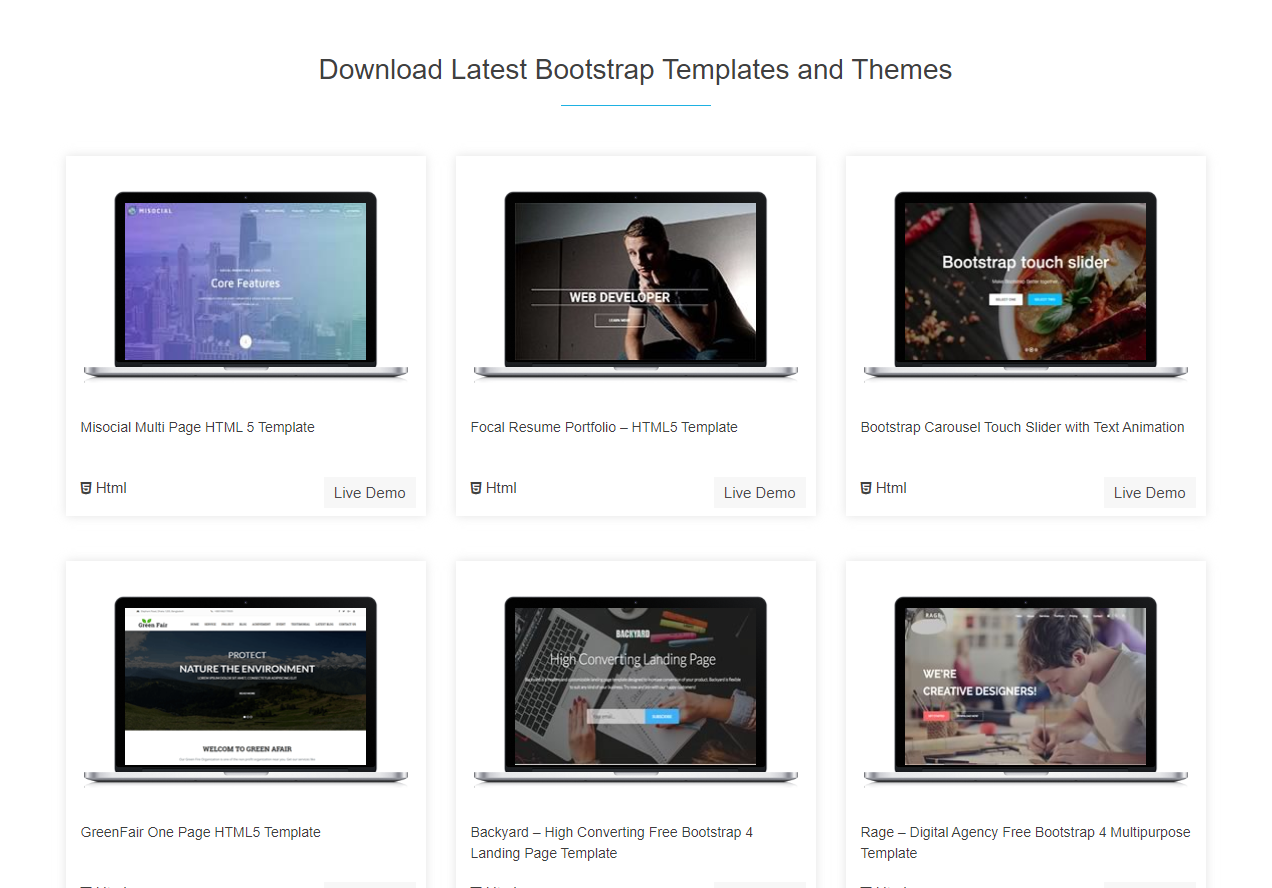 MDBootstrap
MDBootstrap.com is the best website around if you want to use Googles Material Design. The whole content of this site is focused around connecting Material Design and Bootstrap. Their themes are built with the latest version of Bootstrap and you can use them for free, no matter if for personal or commercial use cases.
The site is extensively rich of content - if you have any questions around how to correctly use their special Bootstrap Material Design Framework you will find the answer to that on their documentation sites.
They are not only offering some free themes for Bootstrap, instead there are many aspects of web development integrated into their site regarding the development with Bootstrap and e.g. javascript frameworks like Angular, React and Vue, and also other libraries like JQuery. On top of that there are also many tutorials and resources on how to efficiently build your website using their tools.
It is somehow crazy how big this system is, but there are many people behind it actively developing it further.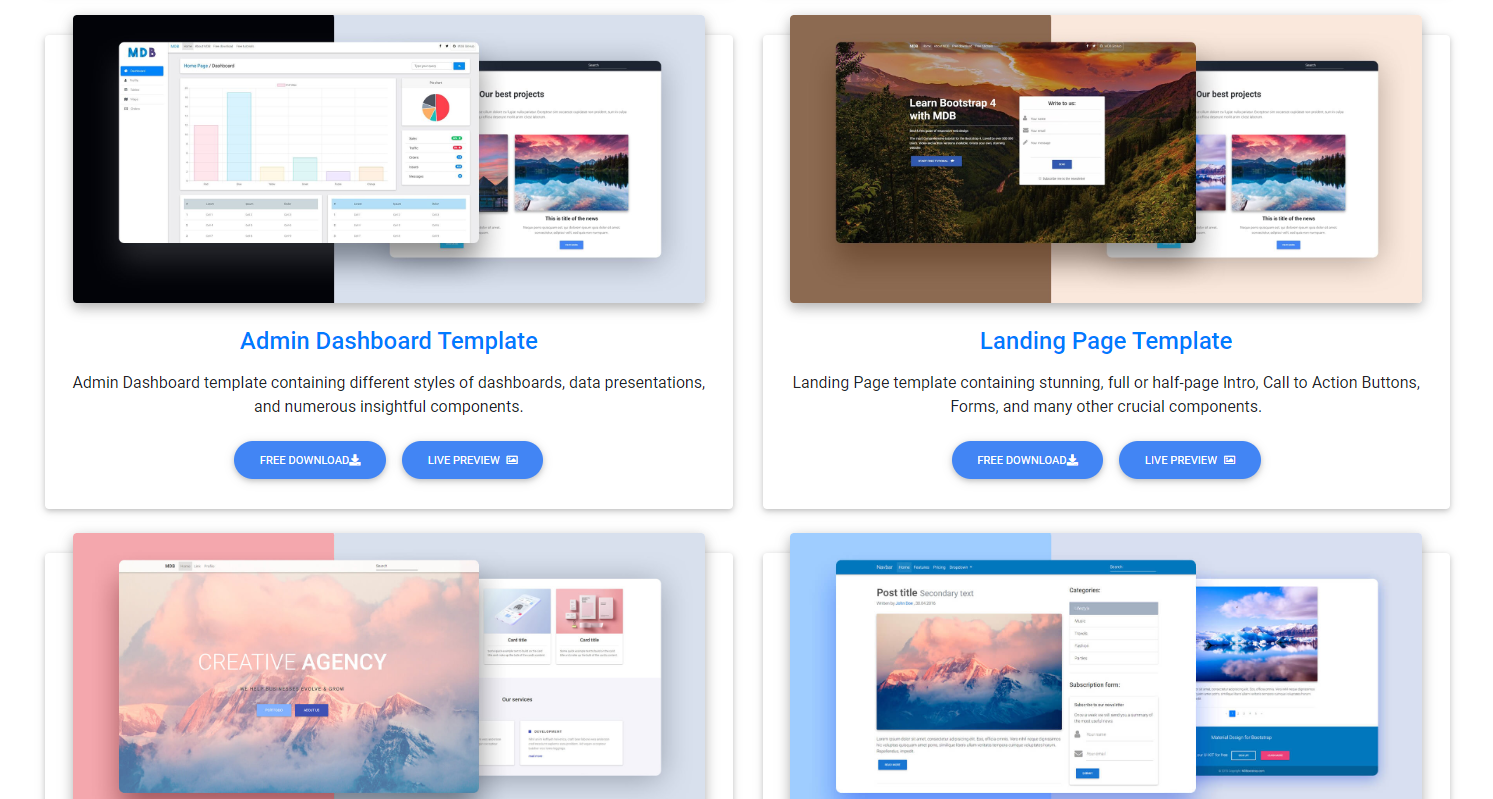 Themewagon
On this website you can find many different free themes for Bootstrap. Their themes are pretty clean and minimal and every theme is developed around a broader category like landing pages, restaurants, hotels, business, fashion, photography or portfolios and many more.
The themes are pretty, clean and well designed and they are not that feature and module packed like themes from bigger platform selling sites. This can ease the development process as getting an overview about the included theme files is much faster.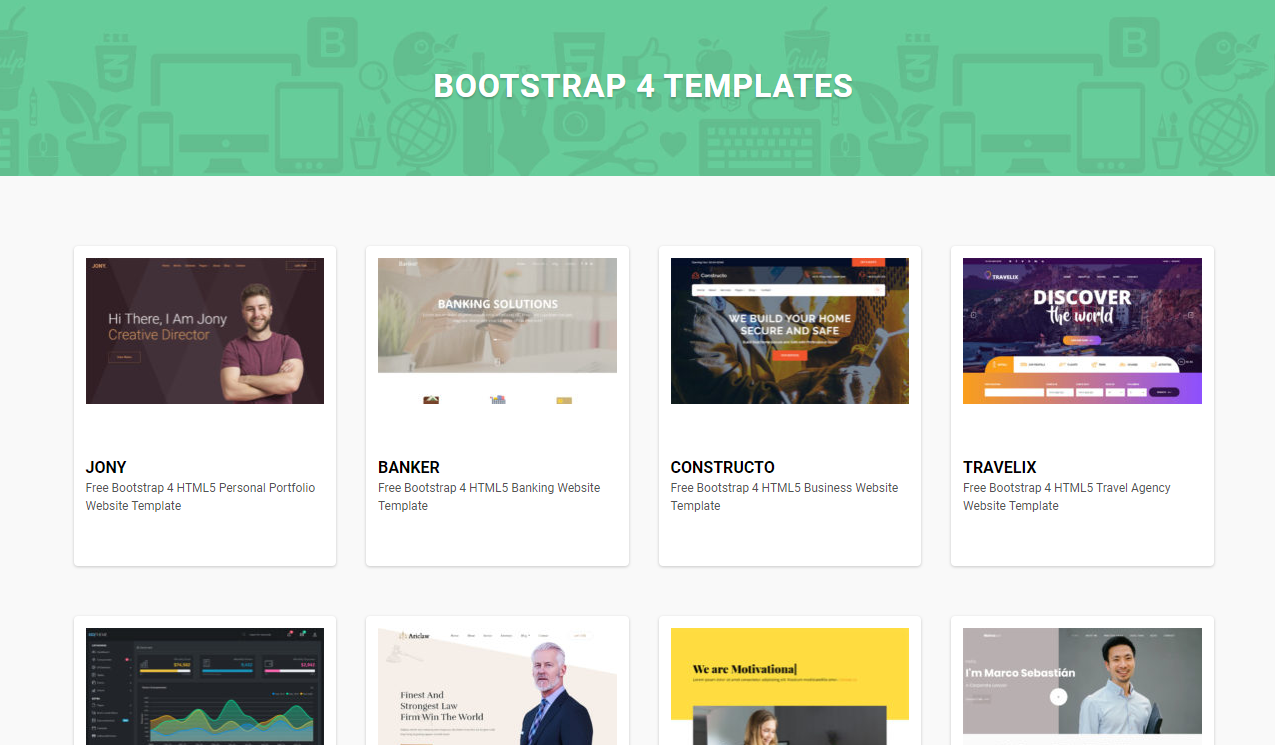 Themeforest
Yes, of course also Themeforest offers website themes and templates built with Bootstrap - and not just a few. Filtering on their site with using tag bootstrap will give you nearly 5.000 results. Thankfully there are many other filter options to further drill down your search.
Often themes on Themeforest are rich of features and modules, some of them are having hundreds of different components and templates included, which can be good for developing websites with many different page types.
One tip when looking on sites likes these with hundreds or thousands of available themes to choose from is to focus on customer reviews and ratings. Good ratings, many sales and happy customers are very good signs that you should not facing many problems developing your website with one of their themes.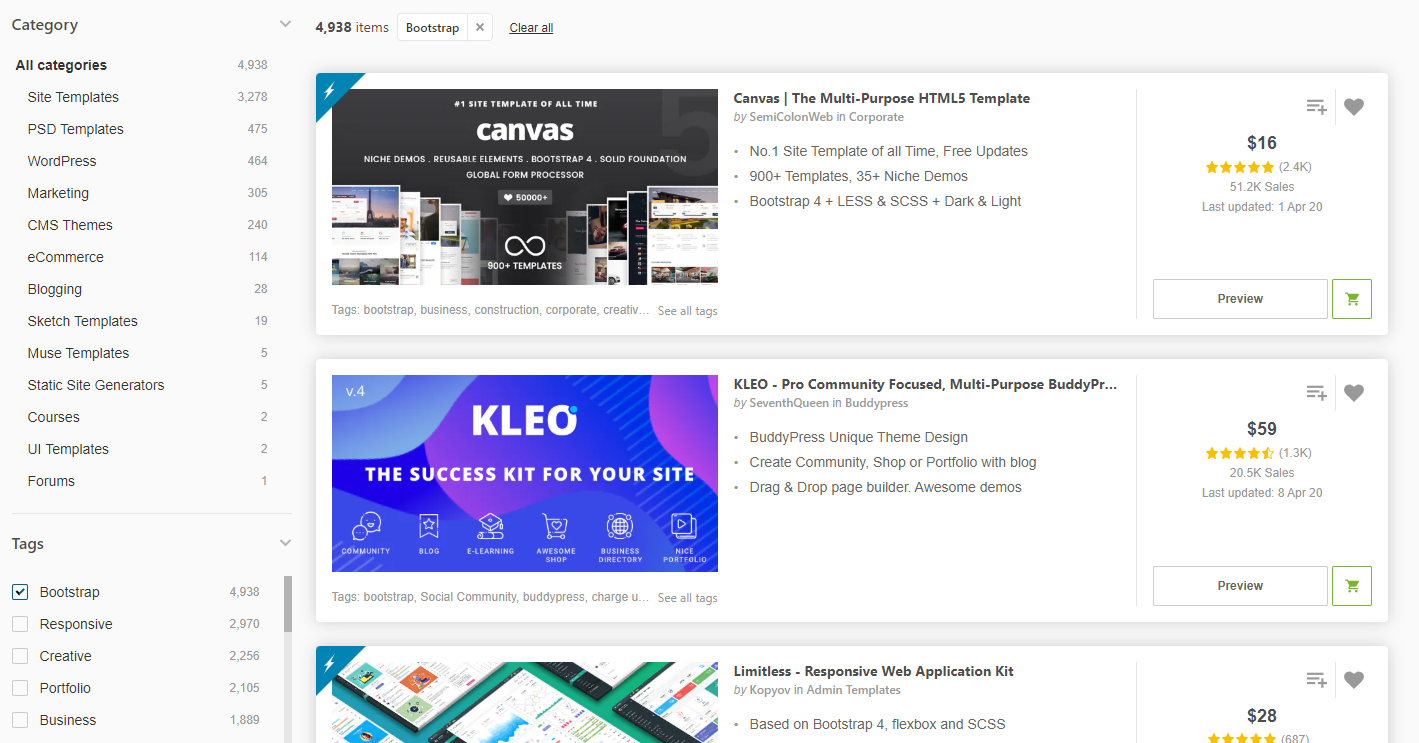 Bootstrap Theme Websites in Overview
Find all websites with Themes for Bootstrap in a list down below.
More posts