Shopify Themes - Free and Premium Themes for Shopify
Do you want to start an online shop? Using Shopify is easy. Get Free and Premium Themes, Pros and Cons for using Shopify, Tips & Tricks
What about Shopify and Themes?
Shopify a great platform for e-commerce and online shops. It is around alread since 2006 and is one of the most popular and successful system for doing online shop business. It is a big online e-commerce platform where you can build your own online shop. It is probably the largest online shop platform worldwide.
Starting with the system is cheap, the user interfaces are pretty good and the flexibility is great. Using Shopify is not free, but their lower plans are starting at 29 dollars monthly for the basic setup. Shopify has a great backend user interface ready for you to manage all your products.
When creating a shop website with Shopify you can choose from many different themes to customize your site and to adapt it perfectly to the content and products you want to sell. There are some free themes available and also a lot of better themes which you need to purchase.
adapt it perfectly to the content and products you want to sell
Shopify itself offers a lot of themes and templates which you can use for your online business. But themes and templates for Shopify are also available on many other sites.
All of the themes have various customization options. It is almost like a website builder software in the background.
But choosing a Shopify theme is not that simple. It needs to look very professional to make users stay on your website and to increase your credibility.
Free or Premium? How much to spend on Shopify Themes
Shopify has free and paid themes for you available. You can pick and choose different themes to see how the designs are suiting your website shop. The paid premium themes for Shopify you can get in a price range of around 50 to 180 dollars. Of course this is a one time purchase and there are no monthly recurring costs for a premium theme.
When you are just starting with your online shop and you only want to test around for a while it is better to start with a free theme from Shopify. There is always the option to later upgrade to using a premium theme.
If your online shop business is getting serious you might profit a lot by using or upgrading to a premium theme. These themes are often much more detailed than free themes and offer more functionality and customizability. Premium themes are created by professional theme designers and are completely optimized for doing online shop business and growing the shop by increased sales.
Pros and Cons for using Shopify and Themes
Some pros and cons for using Shopify listed down below.
Pros
Shopify is very popular
User friendly interfaces
Easy to start building your online shop and list products
Speed and performance
Beautiful themes available for high conversion rates
Responsive and mobile friendly
Cons
You might need to install additional apps to get more functionality
Integrating custom fields is not easy
Limits are reached quickly
There is not free plan to start with
Shopify Themes Websites
Shopify Official Themes
Shopify itself of course offers a lot of themes and templates for your online shop. You can choose from 72 themes with very different designs and customizable options.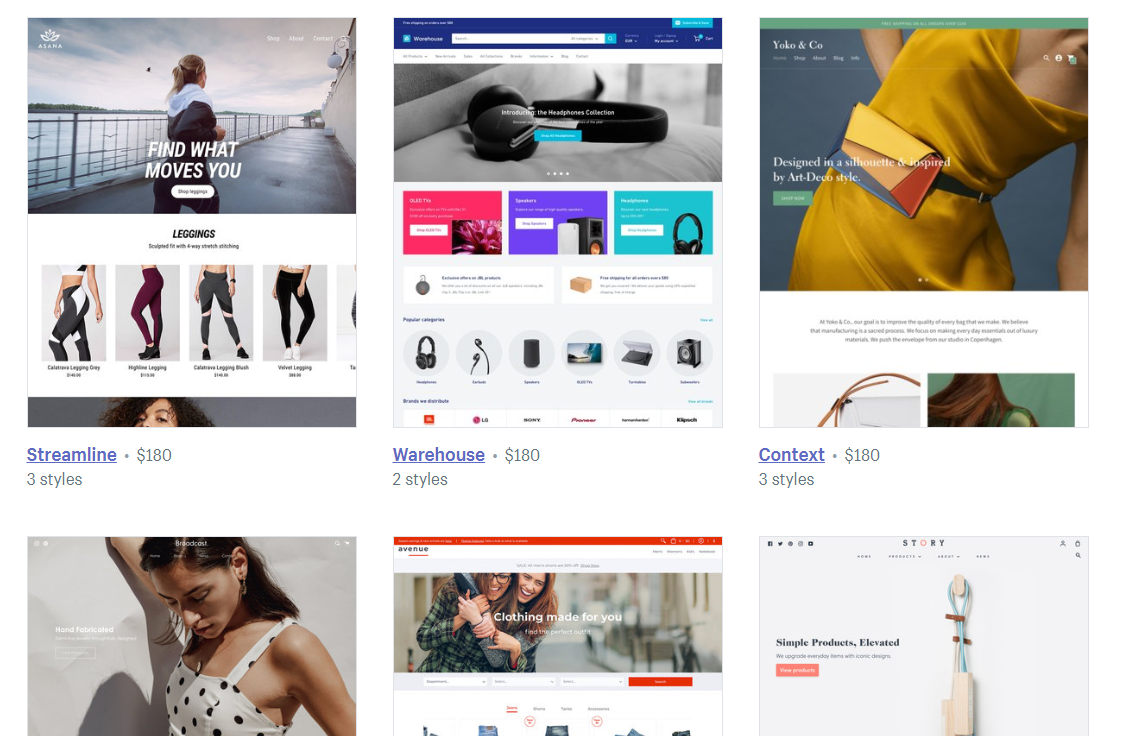 Themeforest Shopify Themes
On Themeforest there are also many themes available for shopify which are also a bit cheaper as the official ones. They have over 1.000 different themes available for shopify.
Templatemonster Shopify Themes
Templatemonster Shopify Themes
https://www.templatemonster.com/shopify-themes.php
Templatemonster also offers around 1.000 themes and designs for shopify. Of course you can always search for them by different categories like sports, accessories, fashion, home and garden, food, business and the usual ones.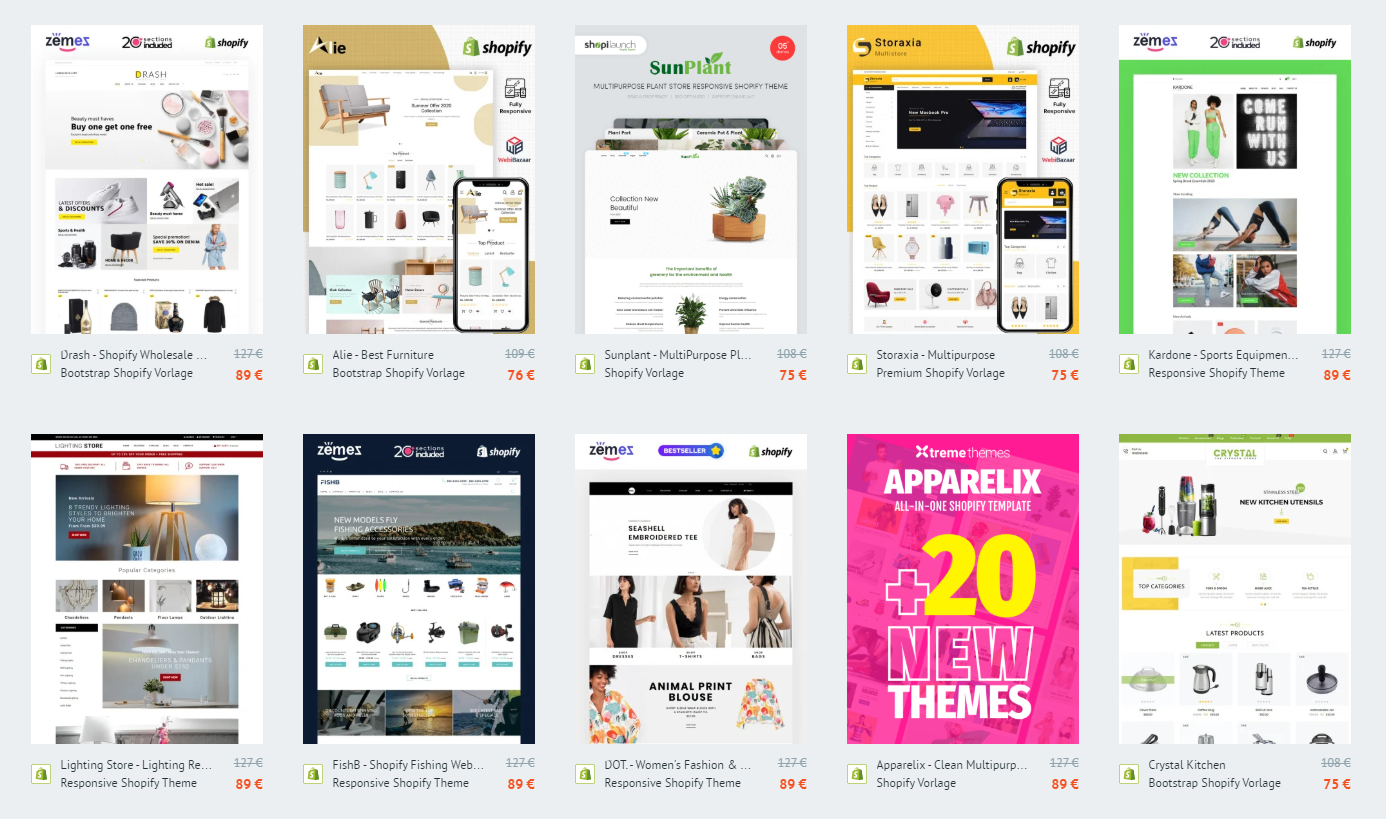 Out Of The Sandbox Shopify Themes
Out Of The Sandbox Shopify Themes
The website "Out Of The Sandbox" offers some high quality themes and templates for shopify which are customizable and multiple layout options. Their themes are a bit more expensive but this investment can be worth it.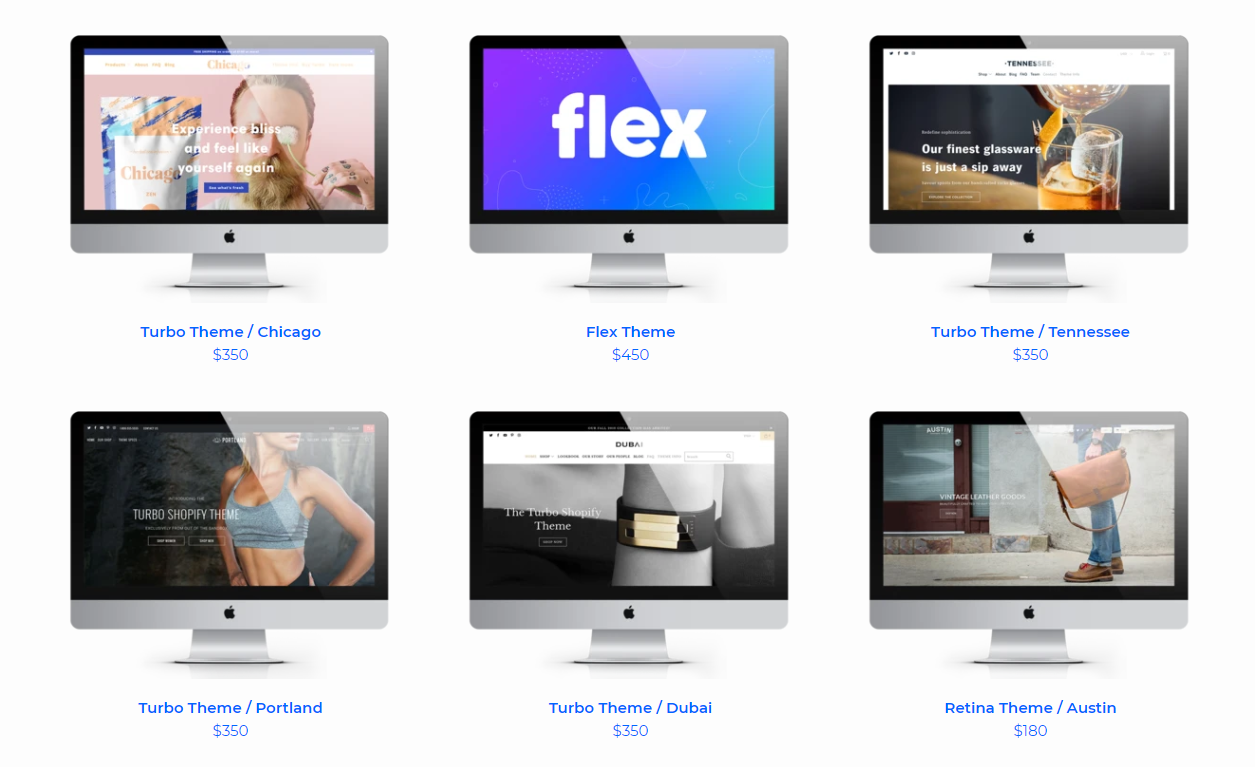 Pixel Union Shopify Themes
Pixel Union offers themes for shopify which are mostly mid range priced. They are professional looking and of very high quality.
Shopify Theme Websites in Overview
Find all websites with Themes for Shopify in a list down below.
More posts